The Hope Is Mine Foundation is focused on helping those in need by providing them with service dogs and empowering them to live a life of fulfillment and become an integral part of society. Our team is made up entirely of volunteers. We advocate for those who need our help. Even a little help goes a long way.
Our story begins with Ms. Alex Dumas, one of our founding members and a service dog recipient herself. In 2003, Ms. Dumas was diagnosed with a debilitating terminal illness. In 2006, Dumas was told she wouldn't make it past June. Enduring a total of 28 surgeries, losing a considerable amount of weight, half a lung, having to wear gloves, protective dark glasses, and a mask for health reasons, and even having a stint in hospice, Ms. Dumas proved everyone wrong and persevered. What has helped her through since that period is a service dog named Hope. For more information about Ms. Dumas and her incredible story, make sure you read the article published about her in the "In The News Section".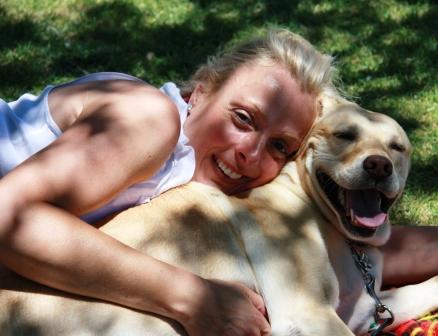 Having Hope (in more ways than one), inspired Ms. Dumas to collaborate with others and start the Hope Is Mine Foundation, Inc. A nonprofit organization dedicated to training and educating corporations, small businesses, and communities nationwide on the inspiration, motivation, and life changing impact service dogs have upon the physically disabled. In addition, the foundation works to place service dogs for those in need throughout the country.
The University of Arizona reports that 0.9% of persons with disabilities are partnered with service dogs. That's approximately 15,000 service dogs across the U.S. Each day, service dogs significantly empower and impact their partners' lives. They enable people who couldn't do the ordinary activities of daily living, that others take for granted, to function independently and with confidence.
With over 99% of disabled persons going at it alone, there is a great demand for service dogs and the strength they can provide those in need. We are constantly looking for those who would like to aid us in this endeavor and invite you to join us. Through education and fund raising, we promote awareness of Service Dogs and the quality of life they provide their partners. We assist in raising funds for service dog placement and provide training and strategies to educate corporations, small businesses, and our communities nationwide.
Hope Is Mine Foundation, Inc. is also looking to provide hope and strength to enrich the lives of individuals with life-threatening medical conditions and their families by granting them their life's true wish. Fulfilling your life's true wish should not be limited by your age. We are looking for volunteers to help fulfill individuals with life-threatening medical conditions regardless of their age. Volunteers serve as wish granters, fundraisers, special events assistants and in numerous other capacities.