Come watch as Alex and Hope make history!
Never before has a person and their service dog ever completed a half marathon! Come join Alex and Hope in Las Vegas as they become the first dynamic duo in history to complete this incredible feat!
They'll be completing the Rock 'n' Roll half Marathon along the Las Vegas Strip! This event will be held on December 5, 2010!
A rockin' mix of running and live entertainment will be all acess along the Vegas Strip at the Zappos.com Rock 'n' Roll Las Vegas Marathon & 1/2 Marathon. The Boulevard will be booming as more than 25,000 runners and walkers make their way to the finish line while moving and grooving to the electrifying beats of some of Vegas' hottest music sensations. And after the race, celebrate with your favorite runners and enjoy live music, food and beer at the Post-Race Concert and Finish Line Festival. Rock out to power ballads and party anthems performed by electrifying headliner, Bret Michaels.
For more information on the event, go to http://las-vegas.competitor.com/promo/spectator-information.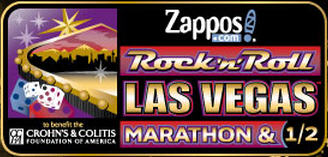 Come join Alex and Hope as they complete the half marathon and watch History in the making!