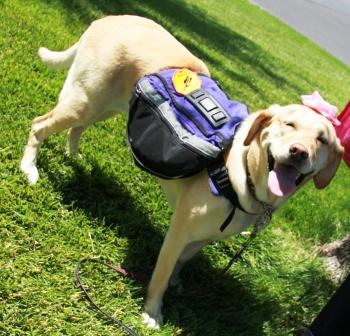 The Hope Is Mine Foundation was founded on the idea of helping those in need. We are advocates for those who need our help as even a little help goes a long way. Through education and fundraising, we promote awareness of Service Dogs and the quality of life they provide their partners. We assist in raising funds for service dog placement and provide training and strategies to educate corporations, small businesses, and our communities nationwide. We seek to empower individuals to live a life of greatness regardless of any physical limitations.
Our Mission is to train and educate corporations, small businesses, and communities nationwide on the inspiration, motivation, and life changing impact service dogs have upon the physically disabled. We intend to place service dogs for those in need throughout the country. We will also provide hope and strength to enrich the lives of individuals with life-threatening medical conditions and their families by granting them their life's true wish.
Our Vision is to provide hope and eliminate personal limitations for individuals who are physically disabled and enable them to become an integral part of society and inspire others to greatness themselves. There should be no limitation on greatness even if there are physical limitations on life.
"I want everyone to know that anything is possible. You can do whatever you want-it's just how bad you want it. Never think that you have to live with somebody else's expectations. You don't. What you do with your life is up to you, and you're the only one who can limit it."

— Alex Dumas, Hope Is Mine Foundation Co-founder